Posterior Capsule Opacification - "Secondary Cataract"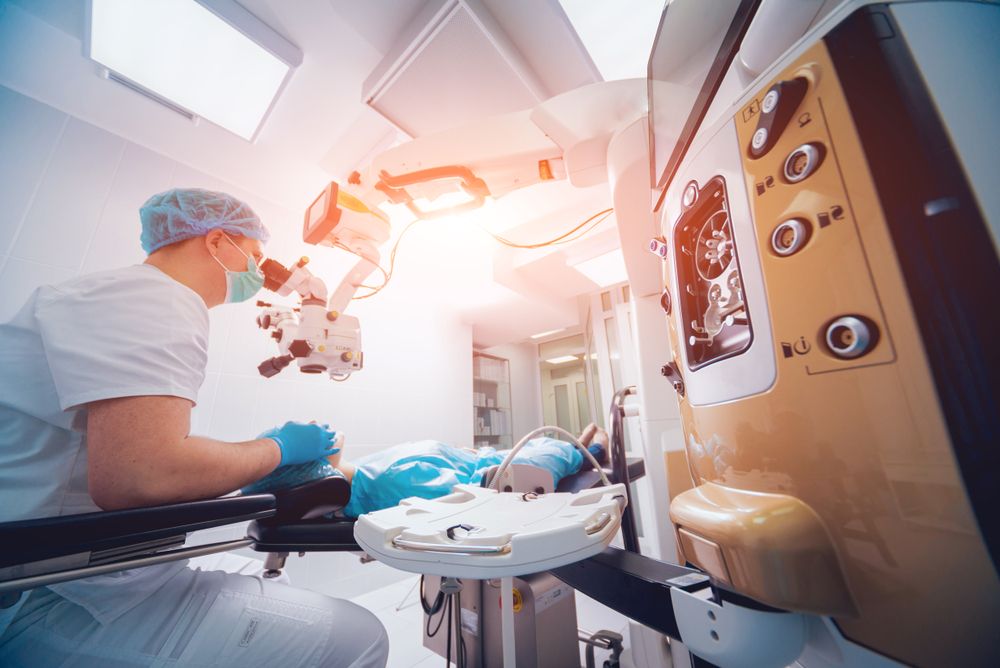 Posterior Capsule Opacification (PCO) is commonly referred to as a "Secondary Cataract". In some patients, this condition may arise months to years after cataract surgery. You may notice a steady decline in your vision compared the bright, clear vision you had following cataract surgery. Fortunately, at Progressive Ophthalmology, located in Sunnyside, Queens, NY, we can easily diagnose this issue and offer a simple solution to quickly and painlessly restore your vision in a matter of seconds.
Understanding Posterior Capsule Opacification
Cataracts evolve as the natural lens of the eye clouds over time. Clouding can be caused by the natural aging process, injury or disease. This clouding is irreversible and progresses to cause a steady decline in vision in one of both eyes. Cataract surgery removes the opacified natural lens, or cataract, and replaces it with a clear artificial lens implant called an Intraocular Lens (IOL). The cataract normally sits in a small capsule, and the artificial lens implant is usually put back within the same area. The lens capsule is clear and should remain clear upon the completion of your cataract surgery. However, a Posterior Capsule Opacification or "Secondary Cataract" can be created when the secondary cells regrow over the back of the capsule causing a decline in vision. This additional cell growth can cloud the capsule and interfere with the new lens' ability to help you see clearly. The thicker cell wall makes it more difficult for light to pass through causing your vision to become blurred or cloudy and can also create issues with bright lights.

Patients often describe posterior capsule opacification as just what it was like to have cataracts. For many patients, the thought of their cataracts returning can cause intense emotional responses and heightened stress levels. Fortunately, Progressive Ophthalmology can determine exactly what is happening with your vision and lay out the options to restore your vision. Posterior capsule opacification can be corrected with a simple procedure and quickly restore your vision.
Treatment
At Progressive Ophthalmology, we stay on the cutting edge of technology to offer you the best solutions for all of your eye care needs. To correct posterior capsule opacification, Dr. Ahdoot uses a breakthrough procedure called the YAG Laser Capsulotomy.

The YAG procedure is easily performed in our office during a routine office visit and is considered very low risk, painless and fast. This laser treatment can even be performed on both eyes in the same day when needed. When you arrive at our office, you will be given drops to dilate your pupils. These drops don't hurt but can make you sensitive to bright lights, such as the sun when you leave our office. Once your pupils have dilated, more drops will be placed in the eye to numb the area. The YAG laser is then easily performed through a microscope, similar to the one that is used for regular eye exams. The laser machine does not touch your eye and is painless. It removes the central portion of the opacified lens capsule and restores your vision instantaneously in a matter of seconds.


The laser operates on a wavelength that is impossible to see, although you may see flashes of light. The laser directs pulses that last only a fraction of a second. During the procedure, you won't feel or notice any pain. The entire procedure usually lasts less than 1 minute. You don't need any special preparations or medications as you do in standard surgery. You go home minutes after the procedure is over.

​​​​​​​Results
Immediately following your surgery, your eyes will be dilated, so you should have somebody else drive you home. Patients can often return immediately to their normal daily activities. In a few days, you should notice that your vision has cleared, although you may notice some floaters in your vision. These floaters will typically settle in a few days and will become less noticeable.