How to Choose the Right Cataract Surgeon
Cataracts are a common eye condition and one of the leading causes of vision loss in people over the age of 40. It is estimated that more than half of U.S. adults over the age of 80 have or have had cataracts. The condition is characterized by clouding of the natural lens of the eye, which is usually clear and allows light to penetrate through it so that we can see. As we age, the proteins that are present and evenly dispersed in the lens of the eye become thicker and clump together, causing cloudy patches in our vision. These can grow progressively larger until our vision is completely obscured.
The only effective and permanent solution for cataracts is cataract surgery, which is a simple and straightforward procedure for trained and experienced surgeons. The process involves removing the cloudy lens and replacing it with an artificial alternative.
Cataract surgery is carried out by ophthalmologists, who are physicians specializing in the comprehensive medical and surgical care of eyes and vision. It cannot be performed by an optometrist or optician, who is only responsible for routine eye care, such as yearly eye exams and providing prescriptions for glasses and contact lenses.
If you have been recommended for cataract surgery, choosing the right eye surgeon can make the difference between a reasonable outcome and a great one, particularly if you hope to decrease your need to wear glasses after your procedure.
Here are a few of the most important things for you to consider when it comes to choosing the right cataract surgeon.
Education and Training of a Cataract Eye Doctor
Unsurprisingly, ensuring that your cataract surgeon has received the appropriate level of education and training is of paramount importance. After achieving their medical degree, ophthalmologists must then complete an additional four years of postgraduate specialty training to become a general ophthalmologist. This includes a three-year residency in ophthalmology (eye surgery) in an approved surgical residency program, following at least a one-year internship.

Our renowned ophthalmologist, Dr. Ahdoot, received his Medical Doctorate Degree from the Faculty of Medicine of the Technion Israel Institute of Technology, where he graduated at the top of his class. He then completed his internship in General Surgery at Maimonides Medical Center, before entering residency training in Ophthalmology at North Shore University Hospital. In his last year of residency, Dr. Ahdoot was chosen to serve as Chief Resident in the North Shore LIJ Department of Ophthalmology.

Fellowship training is part of the process of becoming a specialty physician. During fellowship training, a physician follows a specialist closely in order to train in a subspecialty and is known as a Fellow. A surgeon who is 'Fellowship trained' is considered to have shown the highest level of dedication to the field and achieved the highest level of training. Our ophthalmologist, Dr. Ahdoot, has completed a Fellowship in cornea, external disease, cataract, and refractive surgery from Mount Sinai Hospital in New York, NY. During this time, he also received a coveted Fight for Sight Fellowship Grant for advancing research in vision and treatment of ocular diseases.​​​​​​​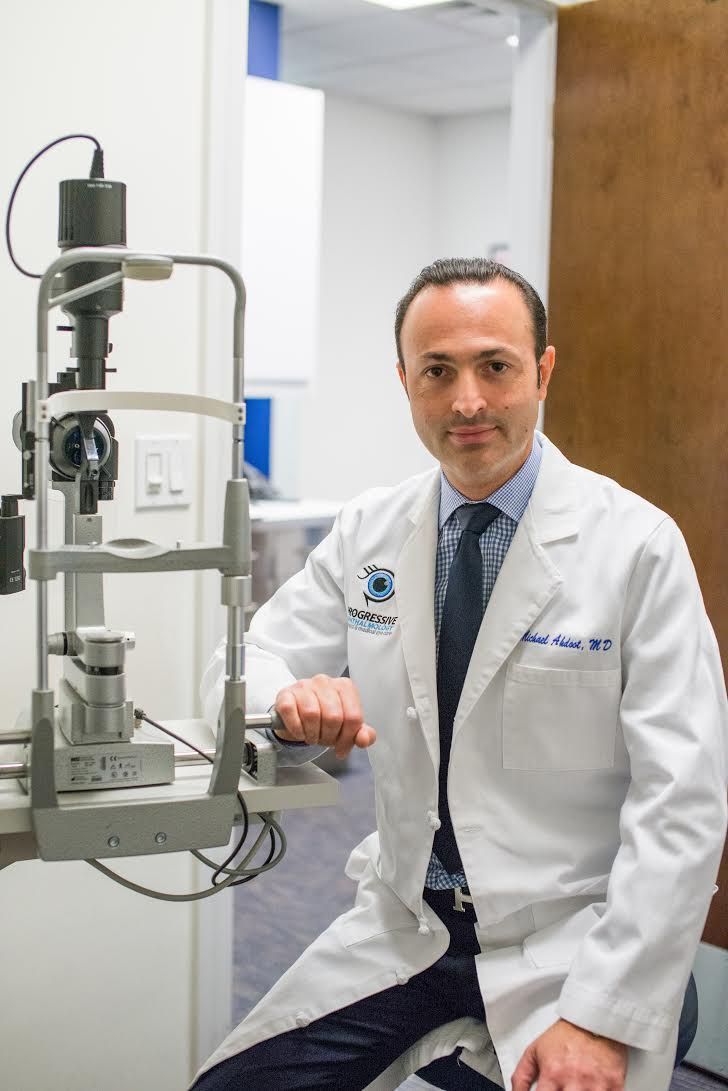 Experience as a Cataract Surgeon
While education and training are extremely important, experience obtained while and since becoming qualified is also important. An eye doctor's residency enables him to gain a great deal of hands-on experience with patients, but since qualifying, you also want to know that your surgeon carries out a significant number of cataract surgeries each year. This will mean that they will have seen a wide variety of different patients and cases and will be able to handle any scenario that might arise that isn't exactly 'textbook' in nature. Plenty of experience also means that your ophthalmologist will have had the chance to hone their qualities as a doctor and surgeon.
Visit Your Chosen Cataract Surgeon
Before committing fully to a cataract surgeon, we strongly recommend that you take the time to schedule a visit to meet them in person. This will enable you to ask any questions that you may have about their training and experience and discover their attitude and approach to eye care.

​​​​​​​During your encounter, be sure to ask any questions that you have and that your eye surgeon has the ability to put you at ease about your procedure. Ideally, your cataract surgeon should also demonstrate a commitment to furthering their education and experience by incorporating the use of the latest and safest technologies and techniques in their practice.
If you would like more guidance on how to choose the right cataract surgeon for your procedure, please don't hesitate to schedule an appointment with our New York eye doctor, Dr. Ahdoot. Call 718-565-2020 today.