HAVE I CAUSED MY CATARACTS?
We often take our senses for granted. It isn't until they become compromised that we realize how much we rely on them. Experiencing vision problems can be frightening. If you have recently been diagnosed with cataracts, you might not have expected it, you might be wondering, "has something I have done caused my cataracts?" or "Is there something I could have done differently to avoid them?"
Let's discuss what cataracts are and what causes them. By educating yourself about cataracts, you will ease your concerns and take steps to limit your risk of developing them in the future.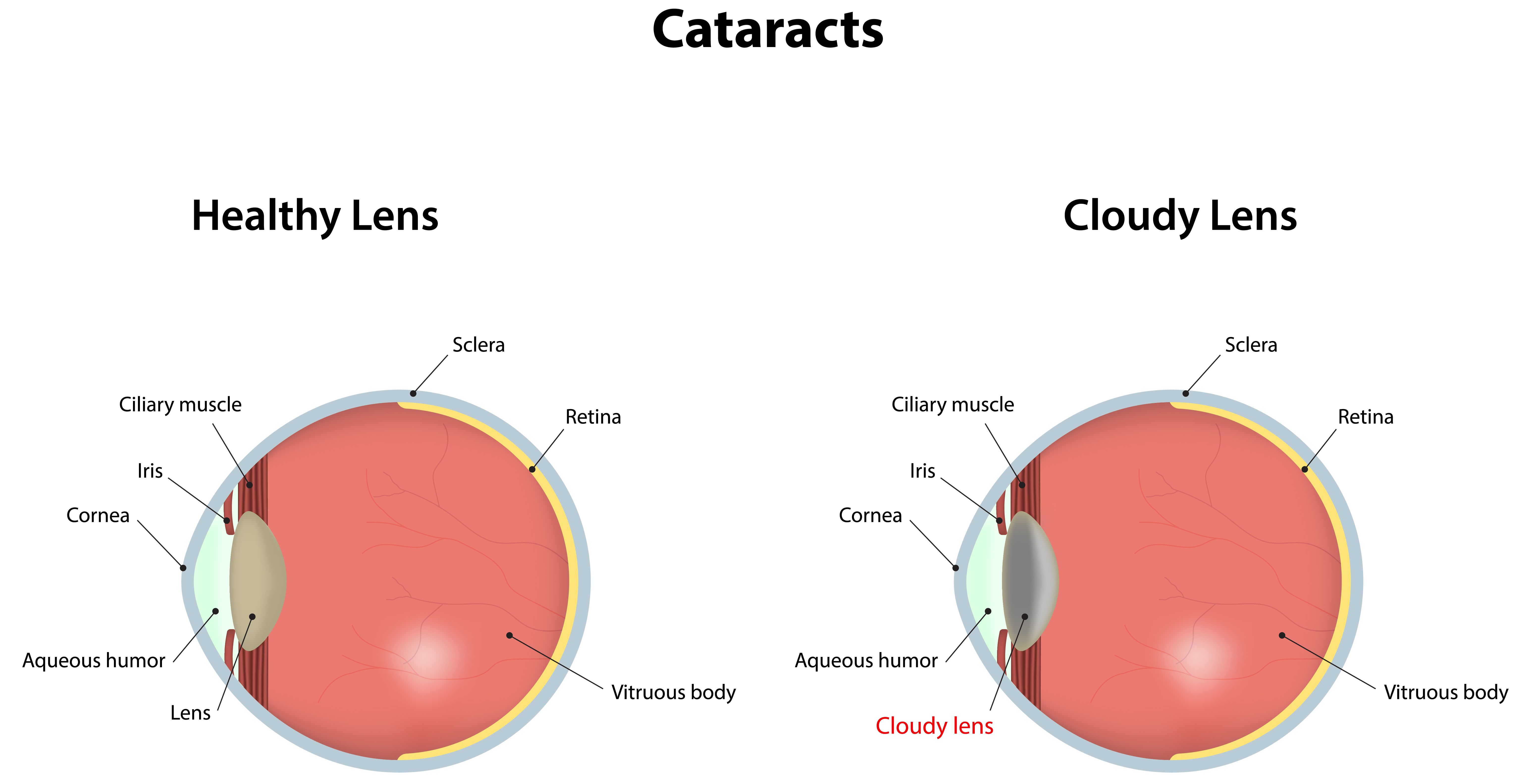 Cataracts are an extremely common ocular condition affecting as many as 24 million Americans aged over 40. It is the primary cause of impaired vision around the world.
Cataracts are cloudy patches that develop in the natural lens of the eye. These clouds prevent light from reaching the back of the eye, causing our vision to appear misted or blurred.
WHAT ARE THE SYMPTOMS OF CATARACTS?
Cloudy vision is the most commonly cited symptom of a cataract. However, you may also experience other vision issues, such as:
Seeing double
Being dazzled by bright or strong light
Feeling like there is a film across your eyeball
Dimmed vision, with many patients reporting that they feel like they are seeing through half-closed eyes, or that it appears only half bright
A regular change in your eyeglass prescription without witnessing any real change or improvement in your ability to see properly
WHO IS MOST LIKELY TO BE AFFECTED BY CATARACTS?
There are several different types of cataract. Although some varieties affect infants and young people, cataracts primarily affect people over the age of 40.
WHY ARE OLDER PEOPLE MORE LIKELY TO DEVELOP CATARACTS?
Cataracts in older people have largely been attributed to natural changes that happen in our body as we age. One of these changes is an accumulation of clumps of the natural protein found in the lens of the eye. This creates the cloudy effect experienced by sufferers of cataracts.
DO LIFESTYLE CHOICES CONTRIBUTE TO CATARACTS?
You may be wondering if there is any aspect of your lifestyle that has caused you to develop cataracts. Or, if you haven't been diagnosed with them, but are concerned about developing, you probably want to know if there are any preventative steps that you can take.
The truth is that while age-related changes are normally the primary cause of cataracts, there are other factors, which could contribute to developing cataracts. These include:
Exposure to intense heat and/or radiation
Exposure to UV light on a regular basis - for example, not wearing sunglasses while outdoors or using a sunbed without adequate eye protection
Repeated eye infections
Poor diet, such as minimal fruit and vegetables or high levels of sugary and fatty fast foods
Smoking
Excessive alcohol consumption
Some medications, like steroids
Some medical conditions, such as diabetes
REDUCING YOUR RISK OF CATARACTS
While cataracts may not be fully preventable, it is worth trying to reduce your risk of developing them. Living a healthy lifestyle, such as not smoking, reducing your alcohol consumption and avoiding excessive UV exposure, can slow the development of cataracts as you age. Once cataracts are formed, however, there is no reversing them.
There are also some specific foods that have been shown to be beneficial for ocular health, including dark, leafy greens and colorful fruits and vegetables. These types of food are high in powerful anti-oxidants that can prevent damage to cells throughout the body.
However, the most important thing you can do to protect the health of your eyes is ensure that you attend your regularly scheduled appointment with your eye doctor. A professional check-up can provide the perfect opportunity to spot any potential problems early and prevent them from worsening.
Dr. Michael Ahdoot and the rest of the team at Progressive Ophthalmology are experienced in identifying, diagnosing and treating cataracts in patients in Queens and the surrounding metropolitan New York City area. To find out more information about the causes of cataracts, or to arrange a consultation appointment, please call us today at 718-565-2020.